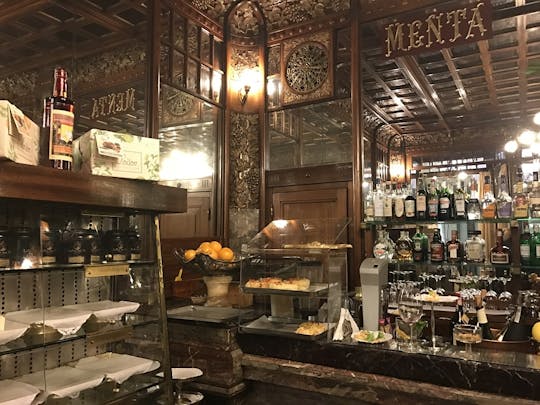 EatinTOur traditional traveling dinner experience in Turin
Variable
Jantar
Bilhete eletrónico
Sobre esta atividade
Enjoy a tour of flavors and stories that will reveal to you the tradition and beauty of this unique city. The EatinTOur was born from the desire to combine the synergies of architecture, history and gastronomy found in Turin today. The tour covers the city center starting at Piazza Castello in front of the Madama Palace. From there, you will begin your journey including a stop at four top-quality historically traditional eateries, creating a traveling tasting menu from appetizer to dessert. Between these tasty stops, you will have the opportunity to discover the city center with your guide who will explain the history and culture of the city with a focus on the most significant areas. Don't miss out on this tour that will be sure to excite all of your senses.
Local eateries included on tour:
PEPINO (appetizer + Cocchi vermouth)
Pepino has produced top-quality ice cream in Torino since 1884. Over the past century, it has become known as a great European ambassador in the ice-cream industry. In 1939, the company invented and patented the famous "Pinguino®," the first Popsicle ever to be covered in chocolate (patent #58033), now produced in five flavors. Their landmark store is the historic "Gelateria Pepino" in Piazza Carignano in the heart of the city. This location not only sells ice cream but also food for all times of the day and catering services as well.
Restaurant Circolo dei Lettori (two first course tastings + glass of wine)
This restaurant, situated in a characteristically historic room, decorated with playful paintings and portraits done by Piedmont artists, offers the best of the traditional local cuisine reinterpreted in a light manner with seasonal ingredients. The restaurant offers a buffet and thematic dinners prepared by a team of young professionals guided by Chef Stefano Fanti.
Mulassano (zabaione - custard cream)
This unique place is characterized by its Numidian onyx bar with bronze decoration, a ceiling of wood and leather, walls adorned with mirrors, woodwork and ornately sculpted decoration. You will note its wooden facade with a compass and stained glass piece created by Vandone and other extraordinary artisans in a unique form so as to be able to be moved elsewhere as a whole work. Renovated in 1978 and again in 2010, this place is an important icon for the people of Turin. It is here that tramezzini (small traditional Italian sandwiches) were invented, and until 1926, the royal family of Savoia came to this cafe to drink coffee behind thick red curtains. In addition, Guido Gozzano was a regular, and Marcario came here to brainstorm ideas for his work.
Caffè Torino (coffee + small pastry)
This cafe was opened in 1903 by its intrepid founder who, with great courage and resourcefulness, entered into competition with the other historic cafes in Piazza San Carlo. It had immediate success with its precious marble, painted medallions, long wooden bar with finely polished marble, lavish and harmonious stair case and decorative mirrors. Everything was designed in the style of the epoch and it maintains this character today. Just as a century ago, they offer their sweet delights on silver trays with their house specialty pastries perfected by the delicate hands of their master pastry makers.
Ler mais
Mostrar menos
Atividades semelhantes em Turim
Clique para descobrir outras experiências