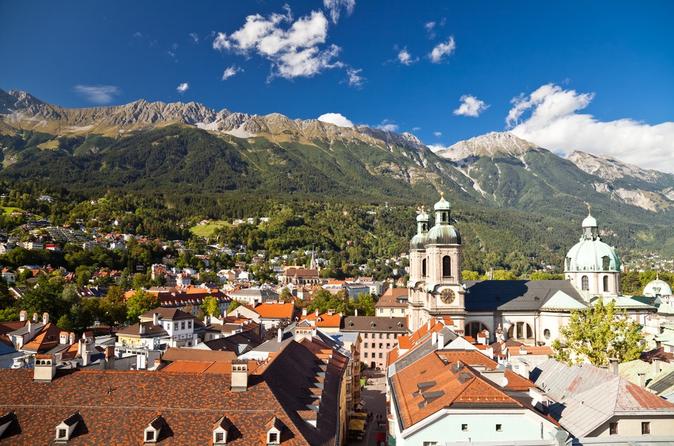 Excursão privada: Innsbruck e Swarovski Crystal Worlds de Salzburgo
Sobre esta atividade
Você será pego no seu hotel de Salzburgo no período da manhã. Acomode-se em uma minivan particular ou uma Mercedes classe E e relaxe durante o passeio panorâmico de 2 horas a sudoeste pelos alpes da Bavária e o Vale Inn até o estado austríaco de Tirol, cuja capital, Innsbruck, o aguarda.
Ler mais
Mostrar menos
Incluído
Embarque e desembarque no hotel
Transporte por minivan particular ou Mercedes classe E
Motorista/guia
Não incluído
Taxas de entrada
Gorjetas (opcionais)
Comida e bebida, exceto quando especificado
Adicional
A confirmação será recebida no momento da reserva, a menos que a reserva seja feita a até 7 dias da viagem. Nesse caso, a confirmação será recebida em até 48 horas, sujeita à disponibilidade
Análises
Not value for money at all. Had to pay for entry tickets inspite being so expensive
Our guide, Peter, was exceptional! We truly appreciated his extraordinary customer-focused service and his friendly and respectful demeanor. Peter went out of his way to make sure that he accommodated my son's and my itinerary requests by strategically planning the sequence of site visitations to maximize our experience in Innsbruck and at the Swarovski Crystal Worlds. I especially appreciated and valued the depth of Peter's knowledge of the people and history of the regions and sites we visited - I learned so much from this tour! Thanks to Peter, our trip to Innsbruck was absolutely enjoyable, educational, memorable and just plain AWESOME! I would whole heartedly recommend this tour - with Peter as its guide - to my family and friends!
The tour guide, Wolfgang, was terrific!!! He had lots of knowledge and stories to share. Great sense of humor, and accommodating as well. Crystal Worlds wa a little disappointing...somewhat over commercialized.
The tour guide picked us up from our hotel on time in Salzburg. We then had about a two hour drive to Innsbruck - which was delayed on the way back due to the traffic jams. The tour guide gave little insights on the surroundings which was super disappointing. Basically he was pretty much a driver - not a tour guide. Watch out... this tour does not include the entrance fee into Swaroski, which cost us an extra 45 euros for three people.... If I had to do it again, I would catch a train from Salzburg to Innsbruck and take the tour to Swaroski from there. You would save yourself a ton of money and a more pleasant and quicker commute to Innsbruck and back
Atividades semelhantes em Salzburgo
Clique para descobrir outras experiências