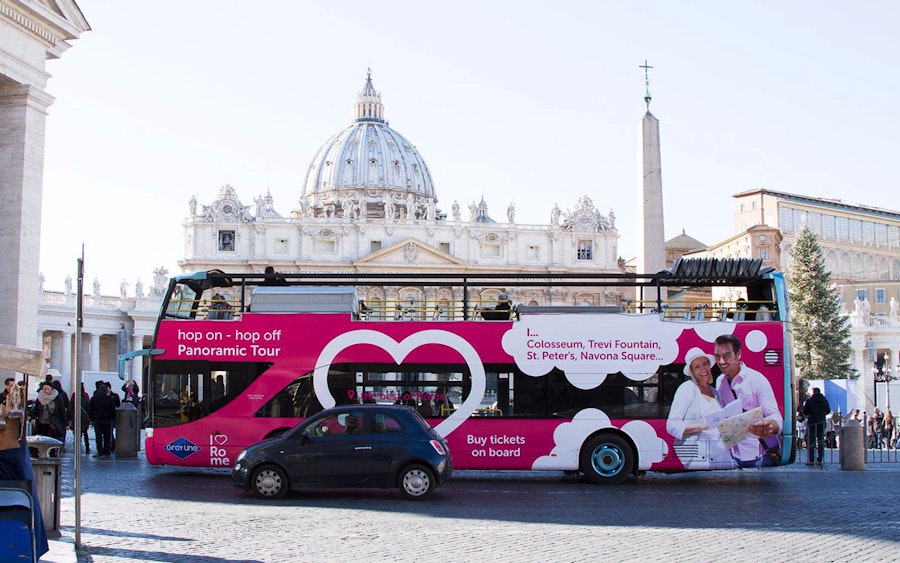 I Love Rome: Panoramic Bus Tour with Audio Guide + Optional Hop-On Hop-Off
Variable
Popular
Audioguia
Sobre esta atividade
Your Experience
Hop on and off any of the pink double-decker buses and explore Rome without having to worry about transport. The Panoramic route consists of 9 stops, specially designed to take you on a tour of the city's most popular points of interest. Conveniently explore major sightseeing attractions such as the Colosseum, Piazza del Campidoglio, Spanish Steps, Piazza Navona, Trevi Fountain, Circus Maximus, Tiber Island, Vatican Museums, and St. Peter's Basilica.
Depending on how much time you have to spend in the city, choose amongst singles rides (no Hop-On Hop-Off) or Hop-On-Hop-Off rides. While the single ride is not a Hop-On Hop-Off tour, it's an excellent way to see the entire city if you're pressed on time. From the comfort of your seat atop the open deck bus, you'll get endless panoramic views and photo ops of Rome's top attractions.
View a full map of the Panoramic Pink Bus Routes here.
Ler mais
Mostrar menos
Coleções
Esta experiência faz parte destas coleções
Também poderá gostar
Clique para descobrir outras experiências
Ver tudo
Museums
220 Atividades
Vatican museums
444 Atividades
Sistine Chapel
319 Atividades
St. Peter's Basilica
186 Atividades
Walking Tours
280 Atividades
Colosseum
584 Atividades
Ancient Rome
189 Atividades
Pompeii
146 Atividades
Trips from Rome
202 Atividades
Roman Forum
203 Atividades
Ver tudo 51 Coleções