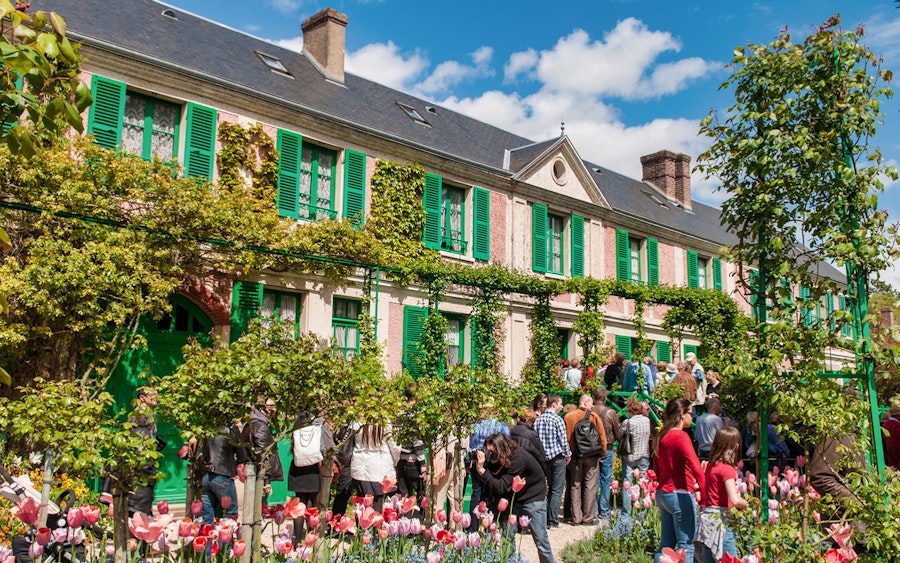 Guided tour to Giverny: Claude Monet's House and Gardens
Variable
Popular
Com guia
Sobre esta atividade
Why You Shouldn't Miss This The Journey
Venture into the home and garden of renowned impressionist painter and gardener Claude Monet during your half-day excursion. Depart from central Paris and soak in the rich green landscapes traveling in a comfortable air-conditioned coach to the little village of Giverny in Normandy. Lend your ears and imagination to Monet's world, where a professional guide will lead you through aspects of the impressionist's daily life by visiting his studio and his home. Bloom in bountiful views of his garden including the "The Irises," the "Water Lilies," and the "Japanese Bridge" along with the divine panoramic landscapes.
The Gardens
Play in the colour pallet of Monet's garden while on your visit and explore the diversity as well as the intricacies of how he designed his water garden, flower garden & fruit tree orchard like one of his art pieces. Parading along the pathway towards the house and observe how considered each bed of flowers are placed along the path. Daffodils, tulips, narcissi, irises and peonies all adding to the canvas like landscape.
The Rooms
Admire the rooms of Monet's private apartment that have been carefully laid out with the original furniture that was in use while Monet was alive. Pass from the blue reading room that takes you in Monet's studio where a number of french impressionists worked till 1889 to the sunny yellow dining room where you will feast your eyes on one of the most valuable collections of Japanese prints and locally sourced blue and white Rouen tiled kitchen with it's earthenware plates.
Ler mais
Mostrar menos
Coleções
Esta experiência faz parte destas coleções
Também poderá gostar
Clique para descobrir outras experiências
Ver tudo
Eiffel tower
167 Atividades
Louvre museum
196 Atividades
City tour
83 Atividades
Moulin Rouge
42 Atividades
Hop-on Hop-off & Bus
55 Atividades
Seine River cruise
227 Atividades
Versailles
207 Atividades
With a local
79 Atividades
Other museums
107 Atividades
Walking tour
179 Atividades
Ver tudo 52 Coleções