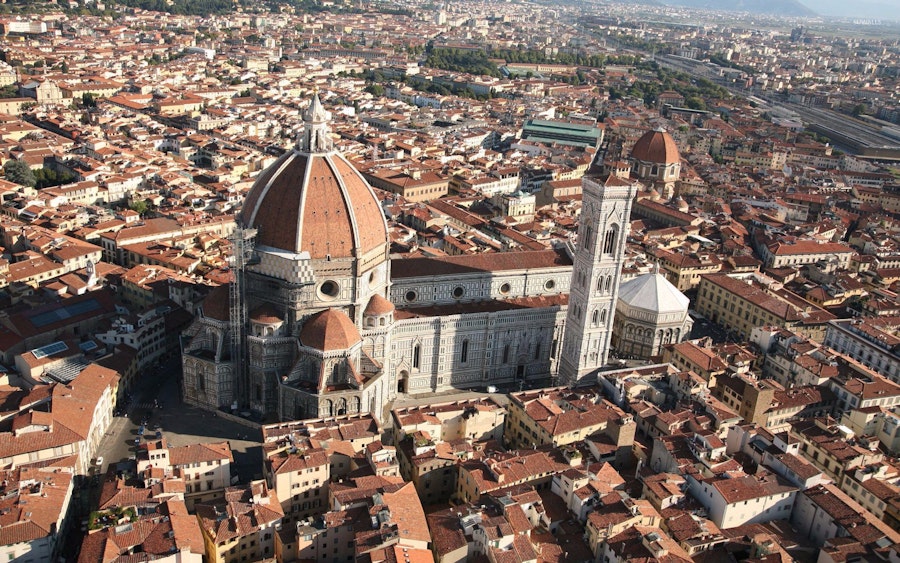 Half-Day Best of Florence Highlights Tour with David and the Duomo
Variable
Popular
Meio Dia
Sobre esta atividade
Your Experience
Begin your morning with a trip to the Accademia Gallery. Over here you will be able to cherish the works of Botticelli, Giotto, Michelangelo, and many others. The gallery is home to the 17ft sculpture of 'David' by Michelangelo which is regarded as the most intricate and charming sculpture to have ever been sculpted. The gallery also houses a Museum of Musical Instruments which showcases the Grand Ducal Collection of over 50 musical instruments. Combined with modern multimedia, the museum allows you to immerse yourself into the music as the Medicis did centuries ago.
The next stop on your tour of Florence will be the Cathedral of Santa Maria del Fiore, or the Florence Duomo as it is commonly known. Take in the spectacular view of the Duomo as it imposes itself on the beautiful Piazza del Duomo. This incredible feat of engineering required a whole new process for its construction, which your guide will describe as you view it from the outside. The entrance to the Duomo is free and you can visit independently if you wish after the completion of your tour.
After you've covered two of Florence's most important landmarks, your guide will lead you on for a half-day tour of the city and its other attractions. You will also stop by at the Florence Baptistery. Be sure to see the East Gate dubbed by Michelangelo as the 'Gates of Paradise'. You will then visit Piazza Della Signoria, an open-air gallery where Michelangelo's 'David' was originally supposed to stand. A replica of the statue stands to this day at the entrance of Palazzo Vecchio. Other stops on this tour of Florence include the iconic Ponte Vecchio bridge, the Uffizi Courtyard, and Orsanmichele Church.
Sights Covered
Accademia Gallery and Michelangelo's David | Piazza degli Uffizi | Piazza della Signoria | Palazzo Vecchio | Porcellino | Orsanmichele Church | Mercato Nuovo | Piazza della Repubblica | Baptistry Doors (outside) | The Duomo (outside)
Ler mais
Mostrar menos
Coleções
Esta experiência faz parte destas coleções
Também poderá gostar
Clique para descobrir outras experiências
Ver tudo
Walking Tour
259 Atividades
Tuscan countryside
208 Atividades
Uffizi Gallery
236 Atividades
Accademia Gallery
234 Atividades
Cinque Terre
62 Atividades
Chianti vineyards
251 Atividades
Gourmet
167 Atividades
Sport & wellness
24 Atividades
Cooking class
134 Atividades
Siena & San Gimigiano
87 Atividades
Ver tudo 46 Coleções