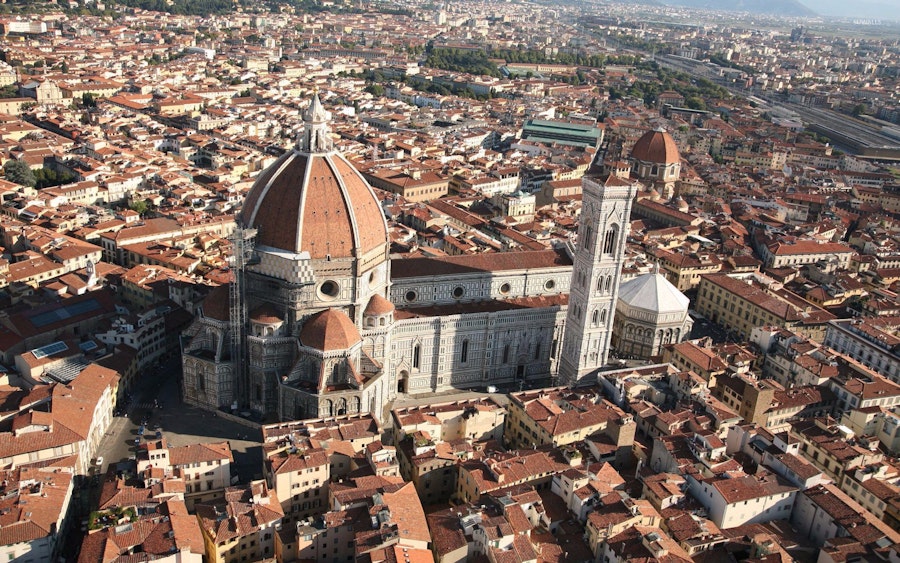 VIP Tour: Accademia & David Tour + Duomo Tour with Cupola and Terraces
Variable
Popular
Meio Dia
Sobre esta atividade
Your Experience
The ticketing queues at both the Florence Accademia and the Florence Duomo are famously arduous. Beat these lines and go behind velvet ropes to gasp at the stunning artworks you see along the way.
Beat The Daytime Crowds at Florence Accademia
Your first stop on the itinerary is the Florence Accademia. Thanks to your reserved tickets for the first entrance to this praised attraction, you instantly rule out ticketing queues. Head right in and be prepared to marvel at Michelangelo's jaw-dropping sculpture of David.
Dazzling people for years, you will now learn about the story of this statue, as well as pick up fascinating anecdotes about its tortured creator, Michelangelo from your local tour guide. His unfinished sculpture, Slaves is sure to intrigue you as well. Learn about the artist's method of sculpting, which he often identified as being a reveal, more than a creation.
Gasp At The Views From Florence Duomo
Next on the itinerary is the undisputed Florence Duomo! Head on through the Piazza del Duomo, where you will also pass by the Florence Baptistery. Take a moment to admire the place where all true Florentines were once baptized. Notice the bronze doors that Michelangelo referred to as "The Gates of Paradise".
Before making your way to the Duomo Terrace, take a minute to soak up the view of the great dome of the cathedral. Built by Filippo Brunelleschi, this dome was known to have broken every rule of architecture. Today, it is one of the largest domes on Earth.
Finally, for the icing on this VIP cake, you'll get to climb the Florence Dome! Walk right up to the pinnacle of the dome to take in striking views of the rolling hills of Tuscany and the vivacious city of Florence.
Ler mais
Mostrar menos
Coleções
Esta experiência faz parte destas coleções
Também poderá gostar
Clique para descobrir outras experiências
Ver tudo
Walking Tour
251 Atividades
Tuscan countryside
191 Atividades
Uffizi Gallery
234 Atividades
Accademia Gallery
222 Atividades
Cinque Terre
62 Atividades
Chianti vineyards
230 Atividades
Gourmet
161 Atividades
Sport & wellness
24 Atividades
Cooking class
133 Atividades
Siena & San Gimigiano
89 Atividades
Ver tudo 46 Coleções